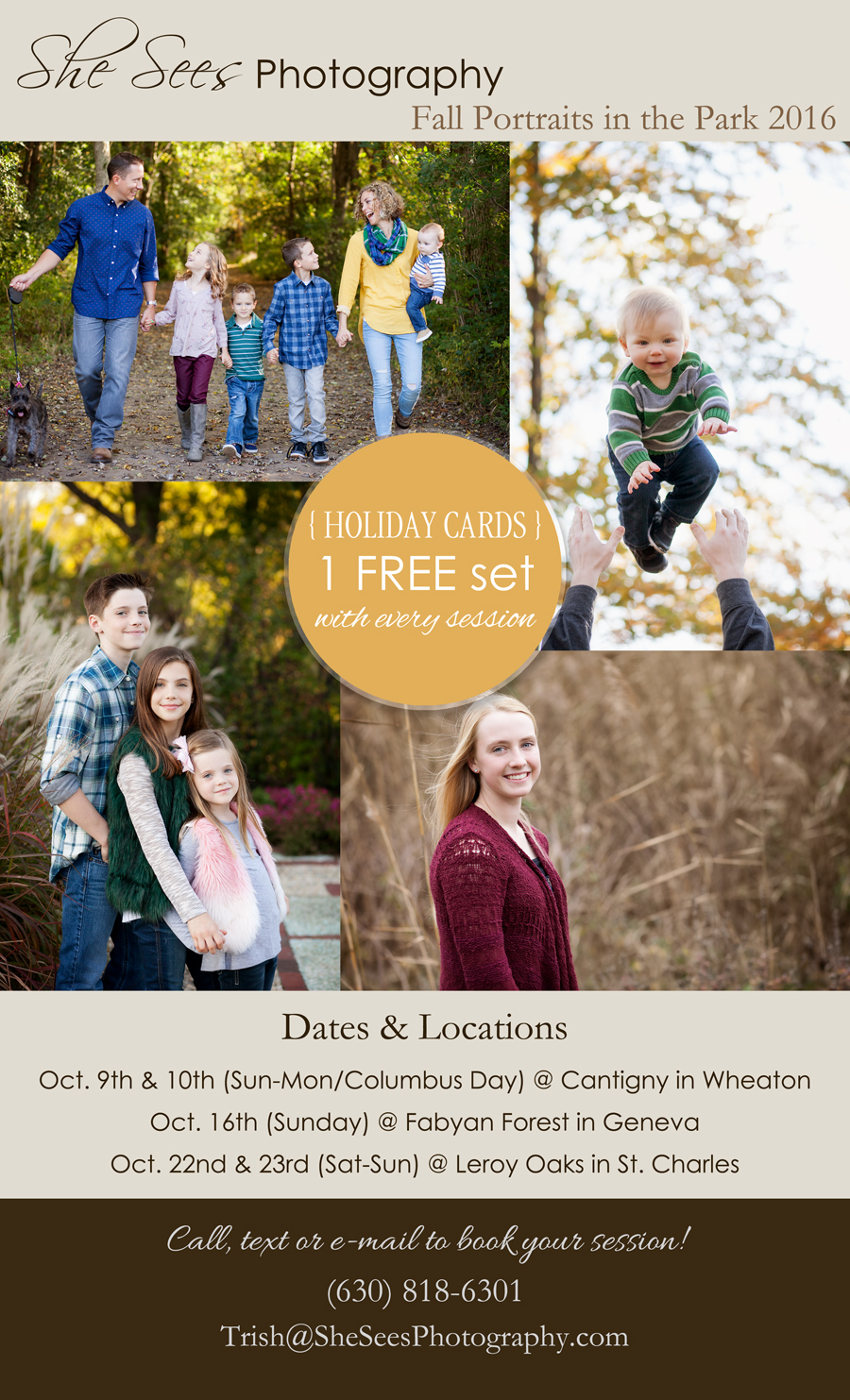 Fall Portraits in the Park 2016 with She Sees Photography!  So my favorite time of year is just about here… FALL!  I love the crisp, cool, refreshing air.  I always look forward to the changing of leaves, from bright green to vibrant shades of yellow, orange and red.  And our family has to make at least one trip to the apple orchard to taste apples, picked right off the tree and smell the sweet aromas of apple cider doughnuts!!!  Is your mouth watering yet?  Fall is simply pleasant on all the senses.
And so, it's a great time to head out to a beautiful park and document some family memories.  The light is even softer and warmer this time of year.  All around, it's the perfect time for portraits.
I love to include a FREE set of holiday cards with every Fall Portraits in the Park session because you wont believe how many referrals and compliments I get on She Sees greeting cards!  YEARS after I will get a new client who says "I have been receiving Mr. Smith's greeting cards that you do for years and I've always loved the photos… so it's time for my own family portrait!"  Or clients who can't go anywhere else for their holiday cards because the quality just doesn't compare.  Every greeting card order is custom designed with your images and your family's style in mind… then printed on premium card stock that is thick and rigid.  Ornate edges and high end finishes are also available for that added touch.
So the first step is to BOOK your Fall Portraits in the Park session with She Sees Photography!  Every session includes a FREE set of holiday cards (25 cards + envelopes) and a portable drive with ALL your images in high resolution with copyright release.
If you don't make it out to one of the parks this Fall, I do wish you and your family a very happy and beautiful holiday season!
Sincerely Yours,
Trish Lynn Forsberg
Save