In my experience, 10 hours of coverage is just about perfect for most weddings. This allows me to arrive early enough to capture the details of getting ready and stay late enough to document the evening festivities. While every wedding is unique, below is a general outline to get ideas rolling on how your own wedding day may unfold.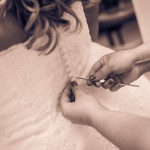 GETTING READY
This is a great time for your photographer to arrive. Typically 2-3 hours before the ceremony. Capturing-Make-up, hair, dress, tux, shoes, rings, flowers, invitations, special gifts, sentimental pieces, interactions, etc.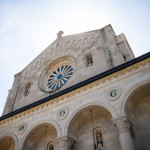 CHURCH OR CEREMONY LOCATION
Your photographer will need to be to the church/grounds at least 15 minutes before your ceremony to get positioned and ready to go. Capturing-Exterior, interior, isle, architecture, decorations, programs, ushers, etc.

CEREMONY
It is customary for your photographer to speak with the church/grounds coordinator before the ceremony to obide by all church/grounds guidelines as well as get any tips on ideal places to stand to get the best images. Capturing-Processional, rings, kiss, recessional, special traditions, etc.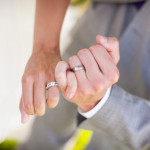 FORMALS
Formal portraits are usually taken just after the ceremony at the alter or other area on the church/location grounds. Make sure to get a good idea of how long is permitted to remain in the church (usually between 30-60min). Capturing-Bride & Groom, Bride & Groom w/family, Bride w/family, Groom w/family, Bride & Groom w/bridal party (variations), any requests, etc.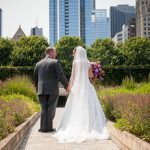 LOCATION
Sometimes the bride and groom opt to meet at a special location with their bridal party and immediate family before the ceremony (usually with destination weddings). Most often, it is after the ceremony, before the reception. This can be a park, downtown area, museum, family member's home, farm, winery, etc. The destination is often a special place to the bride and groom and provides another background to capture portraits of just the bride & groom, immediate family and the bridal party. Make sure to get permission from the park district or venue ahead of time to ensure a fee or permit is acquired if needed.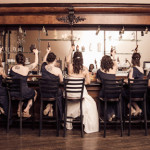 RECEPTION
Now it's time to relax and have fun! Your photographer will often communicate with your DJ to get an idea of how the afternoon/evening is expected to go. This is a great time to capture any of those extra photos, such as co-workers, college friends, cousins, extended family, etc. Capturing-Introductions, cake cutting/cupcake exchange, first dance, toasts, decor, dancing, garter & bouquet, goodnight shots, etc.